Packs:

Chimera's Children

George Seeva
Dieter Likes-Quiet-Skies

Eagle's Children

Cathorine Ropatzski
Stephen

Owl's Children

Raven's Pride
Others: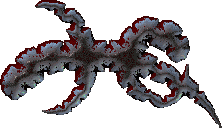 Athro
Adren
Fostern
Cliath

Thorn
Alex Layman
Liara Once-Lost

Cubs

Tommy Pults
Nova
Bradley Shaw
---
Kyril Strikes-Like-Thunder - The Sleepless Singer


- Athro -
---
  This wily wolf is the eldest Garou known to haunt the Tanana Valley. He also has 
  the distinction of being the eldest Moon-Dancer of the Uktena tribe and bears 
  one of their famed tribal staves as a token of this status. He has not been seen 
  much lately by the local Garou, though the spirits whisper tales of the Sleepless 
  Singer who sang and drumed to the wind for three days and nights straight without 
  rest...
---
Honor:










Glory:










Wisdom:










---
Played by Ian Billington
---
Joaquim Twilight-Stalker


- Fostern -
---
  This albino metis came to the Protectorate from the Amazon seeking his lost Klaive. 
  Incidentally the Glasswalker Firewall had ended up with the silver blade somehow 
  and Joaquim managed to track it down with the help of the spirits. Since recovering 
  his prized fetish Joaquim has decided to stay in Alaska believing that this place, 
  like the Amazon, is close to the heart of Gaia. He has distinguished himself as 
  a canny and honorable warrior in the eyes of the local Garou.
---
Honor:










Glory:










Wisdom:










---
Played by Charlie Pierce
---
Damn Jansen - Opens-His-Ears



- Cliath -
---
  Damn Jansen isn't what you'd picture when one usually thinks of a Wendigo Ragabash, 
  him being brawny short tempered and half-Black and all. Still he gets in well enough 
  trouble to satisfy his Ragabash nature and he knows a lot of the old stories and 
  lore much better than pure bred Wendigo. Damn even has the distinction of making the
  cover of Weekly World News with the headline "Werewolves are Black?"
---
Honor:










Glory:










Wisdom:










---
Played by Dustin Gridley
---
  At first glance Karuuk is just a plainly dressed and mild mannered 
  Inupiaq man. This of course belies the fact that he's potent shaman and respected 
  Adren of the Wendigo. Karuuk has been in the middle of intra tribal disputes, 
  green party protests turned riots, burning buildings, exploding helicopters 
  and encounters with balefire elementals... Fortunately though, he really doesn't 
  let much of it bother him.
---
Honor:










Glory:










Wisdom:










---
Played by James Sammons, III
---
Allen Nichols - Firewall


- Fostern -
---
  Once upon a time Allen Nichols was a international thief and happy 
  father of two beautiful daughters. Unfortunately Firewall had a encounter with 
  a powerful psychomachiae in which he lost one of his eyes as well as a fair 
  chunk of his self-confidence and will to live. Now he's all the more zealous 
  to die in the service of Gaia. And where there was once a stingy but playful 
  wit, there is only a barbed tongue that hits the most tender of spots.
---
Honor:










Glory:










Wisdom:










---
Played by Jerry Farnam
---
Kevin Michaelson


- Cub -
---
  Kevin was a relatively sucessful local stand-up comic until he had a really bad night 
  on stage... When he woke up he saw the paramedics removing  a dead body that 
  seemed to a have a microphone shoved up its back side. After that the local Garou
  found him and quickly sent him off with a pack of Cubs for his Rite of Passage. He's 
  almost ready to be recognized as a Cliath, though he's one arm short from what he 
  had when he started...
---
Honor:










Glory:










Wisdom:










---
Played by Russell Huissman
---
Charles "Skippy" Kennedy - Star-Runner



- Fostern -
---
  According to Skippy he's the eldest Trickster around these parts... 
  This of course is disputed but Skippy figures he has tenure so he's the one 
  who's right. Skippy has been through a lot of crap including getting posessed 
  by a bane, nearly getting smashed by asteroids, and getting gelded by a big 
  nasty psychomachiae. As of late Skippy has become more erratic and secretive. 
  Who knows what the Star-Runner has up his sleeve this time..
---
Honor:










Glory:










Wisdom:










---
Played by Robert Michaud
---
Sean McTully


- Adren -
---
  Yeah, Sean has seen it all... A fleshcrafted moose gestalt, a tree made of pure silver,
  wyldstorms, fucked up Umbral Realms, the list goes on. When you get down to it though 
  Sean is just a laid back guy from Ireland who likes U2 and enjoys his 'hobby' of 
  metalsmithing. Aside from that he's the biggest baddest mofo around these parts.
---
Honor:










Glory:










Wisdom:










---
Played by Garret Flood
---
Greig Brough



- Cliath -
---
  Greig is a recent addition to the Protectorate. He's known for his traditionalist 
  attitude on the Litany and his love of fine stout Irish ale, which his elderly Kin 
  uncle produces locally. Of all the members of the Raven's Pride Pack, Greig 
  is the one who communes the most with their soot-feathered totem.
---
Honor:










Glory:










Wisdom:










---
Played by Kyle Way
---
Talks-Too-Much



- Cliath -
---
  Indeed this metis truly lives up to his name... Perhaps Talks-Too-Much 
  should have been born a Ragabash with the amount his mouth gets him into trouble, 
  though it's doubtful the local No-Moons would endorse him joining their ranks. 
  Aside from his regualar snide commentary though, Talks-Too-Much is devoted to 
  the defense of Gaia and has proven himself as a fair warrior and a capable healer.
---
Honor:










Glory:










Wisdom:










---
Played by Smoke D'Aelio
---
Onyx Clayborne



- Cub -
---
  Having gone through her First Change just 6 months ago Onyx is starting to come 
  into her own as a Garou. Her pack has nearly completed the challenges for their 
  Rite of Passage and will soon be recognized as Cliaths. Onyx herself is becoming 
  adept as a Theurge and has even managed to convince and avatar of Owl to watch 
  over their pack as a Totem Spirit. The rest of her time is spent trying to 
  convince the loquacious Damn Jansen that she is indeed a lesbian and that she 
  doesn't plan on breaking the Litany with him any time soon.
---
Honor:










Glory:










Wisdom:










---
Played by Molly Bennett
---
GreyFire


- Cliath -
---
  This matter-of-fact and fierce Ahroun is a proven enemy of the 
  Wyrm. She is unusual in that though she is a Black Fury she has been known to 
  truck regularly with Get of Fenris and male ones at that. I suppose even Malfeas 
  has air conditioning is some rooms.
---
Honor:










Glory:










Wisdom:










---
Played by Catt Williams
---
Nemesis



- Cliath -
---
  The subject of some controvesy lately, Nemesis is stubborn to a fault on the traditional 
  ways of her tribe. It is this fact that has estranged her to Talks-Too-Much the Alpha of 
  the Raven's Pride Pack. As a a result of their conflict a schism has formed in the pack, 
  with her on one side and the Gaian metis on the other. How will it all turn out? Raven 
  only knows...
---
Honor:










Glory:










Wisdom:










---
Played by Christi Gasparini
---
Daisy



- Cub -
---
  This former cheerleader a had bit too many drinks one night and started spilling her 
  guts about the wierd dreams she had about becoming a wolf to the bartender. 
  Coincidentaly the bartender happend to be Onyx Clayborne, who remembered having symilar 
  weird dreams around the time she went through her first change. Thankfully Onyx took her 
  to the local Garou who put her in a pack with the more experienced cub and sent them off 
  on their Rite of Passage.  Now in the midst of all of this Daisy has become overwhelmed 
  and has disapeared. Can her pack find her?
---
Honor:










Glory:










Wisdom:










---
Played by Minerva Ryan
---
Tricky Smith - Rapes-The-Wyrm



- Cliath -
---
  An infamous yet loved figure in both South Fairbanks (a.k.a "Southy") 
  and the UAF Campus, Tricky is probably the most well known pervaeour of fine 
  weed North of the Alaska Range. In his other life Tricky is making a name for 
  himself among the Garou as an honorable and fierce defender of the streets. 
  Some forget there is a code of conduct even on the streets and Tricky Smith 
  doesn't hesitate to remind them.
---
Honor:










Glory:










Wisdom:










---
Played by Cameron Ryan
---
Dave - Junk Masta 'D



- Cliath -
---

  Once a gregarious and happy go lucky character on the local Garou scene, Dave 
  has changed. His once care free and mostly positive outlooks have become ever 
  more sardonic and bleak. Where there was once a reliable warrior for Gaia and 
  Son of Rat there is an ennui stricken cynic. Galliards have given this new Dave 
  epithets like Junk Masta D' and Dead-In-The-Soul. Perhaps Dave will rise from 
  the bog of his own spiritual excrement... Or will Gaia's Fangs and Claws loose 
  another to the Eater of Souls?
---
Honor:










Glory:










Wisdom:










---
Played by Jason Sanders
---
Eric Rickmann - Rages-at-the-Mob



- Cliath -
---

  An old friend of Tricky Smith's, Eric has recently show up on the Fairbanks 
  scene. Already he's making a name for himself as a bullheaded but none the less 
  fearless warrior for Gaia. Eric is famous for geting a stick stuck where it 
  shouldn't by Joaquim and leaping into burning buildings without hesitation. 
  Like many of his tribe once Eric decides to do something woe to those who get 
  in his path. 
---
Honor:










Glory:










Wisdom:










---
Played by Dan Hawkins
---
Seigfried



- Cliath -
---

  Though the Fenrir Seigfried is not the most stereotypical member of his tribe, 
  he is perhaps the sterotype of an artist. Moody and unsociable, he much prefers 
  time with his charcoals and inks to pleasant company with others. One would 
  even wonder if he were truly of the Get of Fenris at all? This is of course until 
  one rouses him to anger and the passion of the Fenris Wolf becomes all too 
  apparent.
---
Honor:










Glory:










Wisdom:










---
Played by Ben Tompkins
---
The Nameless Wolf


- Cliath -
---

  Known for fighting wolverines in the sewers of Fairbanks and biting large bulldozers 
  into inoperation, the only thing that matches this wolf's fierceness is his curiousity. 
  Oh well, we all sniff the wrong butt ocassionally...
---
Honor:










Glory:









Wisdom:










---
Played by Buddy Seay